Dumfries and Galloway attainment aim for children in care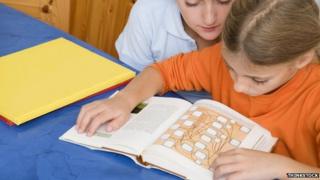 Dumfries and Galloway Council's director of education has said his department is fully committed to raising attainment for children in council care.
The performance of "looked-after" children in P7 in the region is well below the national standard for both general maths and reading.
Colin Grant is hopeful figures to be published soon will show improvement.
He said a key aspect was ensuring that support was being targeted effectively.
"What we want to have is the highest possible aspiration for all of the children in our care," he said.
"That is why we have highlighted really clearly that our aspiration in terms of targets for looked-after children are as high as every other child.
"Sometimes circumstances for looked-after children might mean that they need some additional support and it may well be that that is reflected in the current attainment levels that they have."
He said the council wanted to "close that gap" but was aware that there was a "job to be done" in order to do so.