Scottish independence: Clash over cross-border healthcare claims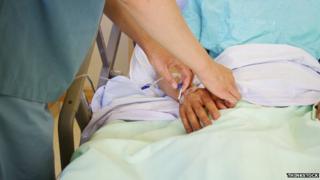 A Conservative MSP and Scottish Health Secretary Alex Neil have clashed over the fate of cross-border healthcare in an independent Scotland.
John Lamont, whose constituency is in the Borders, has published a letter from the UK government's Department of Health.
It says negotiations would be required for present arrangements to continue.
But Mr Neil said agreements were already in place which would allow the current system to remain in place.
Thousands of people in southern Scotland and northern England are treated at hospitals on opposite sides of the border every year.
Mr Lamont said the letter from the Department of Health confirmed that this "vital" arrangement could cease to exist in an independent Scotland.
"Should Scotland vote to leave the union this September it is far from certain that Borders patients would continue to receive cross-border care," he said.
"I know that this will come as a concern to the thousands of Borders patients who every year benefit from being able to access healthcare in England.
"To lose this ability would not only prove to be a massive inconvenience to them, it could also restrict their access to important medical care."
'Operationally independent'
The letter from Jane Ellison MP, parliamentary under secretary of state for public health, said no agreement had been made for the cross-border health arrangements which would apply to an independent Scotland.
She said it could not be assumed that "current procedures would continue to apply".
Mr Neil said that there was no reason to believe that the present arrangements would not continue.
"Scotland's NHS is already operationally independent and has formal agreements in place to allow patients to be treated in other parts of the UK, and also allow patients from other parts of the UK to be treated in Scotland, based on clinical need, and that will continue in an independent Scotland," he said.
"Around 6,400 patients from outwith Scotland are treated here each year, and following independence we will continue to care for these people as our friends and neighbours."
The Scottish government pointed out that reciprocal treatment arrangements already existed with a large number of other nations and that EU directives protected access to such treatment.