Co-op farm business sale plan 'encouraging'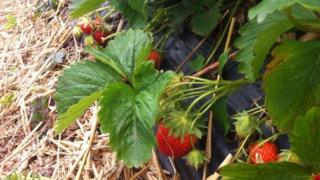 An MSP has said Co-op plans to sell off its farm business - which employs 84 people in Scotland - as an ongoing concern are "encouraging".
John Lamont raised concerns for the impact in the Scottish Borders after the group announced the move as part of its effort to reduce major losses.
He said the fact they would be sold as a single business was positive news.
As well as the Borders, the farm business also has sites in Perthshire, Angus, Dundee and Aberdeenshire.
They produce a range of foods for the Co-op including strawberries, wheat, potatoes and broccoli.
Mr Lamont said he had been "very worried" about the impact on the Borders when he had heard of the announcement.
It prompted him to contact the Co-op to get more details of its plans.
It has now confirmed it hopes to sell it as a single business.
Mr Lamont said: "While it is disappointing that they are still planning to sell off their Borders operations, it is encouraging that they are selling it as an ongoing concern.
"This should hopefully see the business continue to operate, and hopefully safeguard the jobs of those who work for them.
"As always in these situations, the first priority must always be the future of the staff whose jobs are under threat.
"The coming months will be a very worrying period for them so it is encouraging that the Co-op are hoping to transfer their employment contracts to any new owners that are found."
The group has said the situation will not have any impact on the service provided to customers in its food stores.