Cattle scab: First Scots case since 1980s found in Borders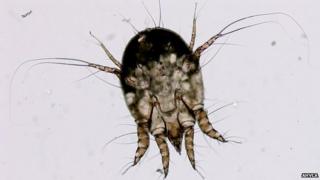 Tests on a calf at a Borders farm have confirmed the first case of cattle scab in Scotland since the early 1980s.
The disease, also known as psoroptic mange, is caused by mites that pierce the animal's skin to feed.
It was found on a Scottish Borders farm in a calf recently imported, along with its suckler cow mother, from outside Great Britain.
Scotland's Rural College said the disease could have "serious welfare implications" if not treated quickly.
Clusters of cattle scab cases have been found in Wales, south west England and Yorkshire but this is the first case in Scotland in about 30 years.
The disease is also present in mainland Europe and Ireland.
It is said to have "severe welfare and economic consequences" as it causes severe dermatitis and intense itching.
Affected animals inevitably lose weight and, in "extreme cases", death can occur.
Helen Carty, of SAC Consulting, veterinary services, said: "Cattle scab is a severe skin disease, with serious welfare implications for cattle if not quickly identified and treated correctly.
"It has the potential to become established in Scotland because of the movement of animals and the difficulties of treatment.
"I would urge farmers to remain vigilant for any signs of cattle scab and to notify their vet of any suspect cases."
NFU Scotland President Nigel Miller said it was "imperative" that infected cattle were "locked-down" for transport in order to avoid the parasite becoming an endemic problem.
"If it does become endemic it will affect the status of Scottish cattle and undo the hard work of the industry to establish a reputation for quality within Scottish cattle," he said.
"We congratulate the vets that picked up the disease following import and can only hope that prompt detection and follow-up may help limit the repercussions."
The Scottish government urged farmers to "maintain high levels of biosecurity" to prevent the spread of the disease.
A spokesman added: "We currently consider that government intervention is not merited and that this is a situation best managed by the industry, but we will continue to monitor the situation and continue to discuss concerns with key organisations."