Wickerman Festival: Del Amitri join line-up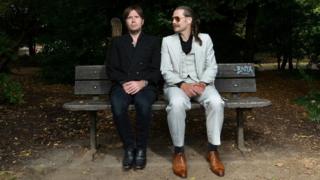 Scottish band Del Amitri have joined the line-up for this year's Wickerman Festival in Dumfries and Galloway.
The group, known for hits like Always The Last To Know and Kiss This Thing Goodbye, will headline on 26 July.
Organisers said it would mark the band's first festival appearance in 12 years.
They have already revealed that rapper Dizzee Rascal will perform on Friday 25 July along with The Feeling, The Zombies and Big Country.
Motown act Martha Reeves And The Vandellas will also appear as part of their tour to mark the 50th anniversary of their biggest hit, Dancing In The Street.
The festival takes place at East Kirkcarswell Farm in Dumfries and Galloway and culminates with the burning of a giant wicker figure.
'Over the moon'
Now entering its 13th consecutive year, there will be 10 stages with a mixture of leading artists, alternative acts and up-and-coming talent.
Del Amitri guitarist Iain Harvie said: "It's been a long time, but what a prospect it is to play to a Scottish festival crowd again.
"We're really looking forward to joining all the Wicker fans this summer."
Festival co-ordinator Helen Chalmers said: "We are over the moon that Del Amitri have chosen Wickerman to make their Scottish festival comeback, after such a distinguished and memorable career it'll be amazing to see the original members performing live again."