Borders traffic warden options examined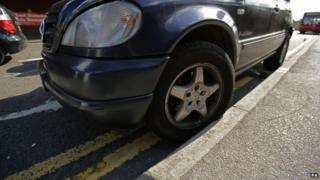 Borders councillors are being advised to set up a working group to look at the way ahead for parking enforcement.
Police Scotland is in the process of withdrawing its traffic warden services across the country.
A report to a Scottish Borders Council committee outlines fears of significant parking problems in a number of towns.
Police have said they will still provide "appropriate enforcement activity" where parking is deemed dangerous or causes an obstruction.
However, councillors will be told there are resource and staffing implications for the local authority, particularly if it goes down the "decriminalised" parking route and introduces its own warden service.
Transport Scotland would normally only allow that if it could be proved the wardens service at least broke even financially.
Councillors are being advised to set up a working group to examine various options.
Police Scotland intended to withdraw the service at the end of last month.
It agreed to postpone the move in Stirling, Falkirk and the Scottish Borders in the face of possible legal action.
Changes to legislation in relation to most parking offences mean that there is no longer a requirement for enforcement to be carried out by the police.
A number of Scottish councils have already introduced Decriminalised Parking Enforcement but the Borders is not among them.