Annandale Conservative councillor Graeme Tait joins Labour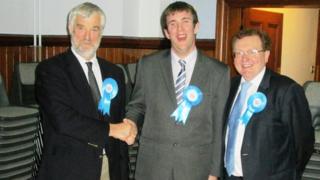 A Conservative councillor elected less than 18 months ago to Dumfries and Galloway Council has left his party to join the Labour group.
Graeme Tait won a by-election in the Annandale North ward in November 2012.
Ten months later he was one of seven councillors who quit the Conservative group, prompting the collapse of its ruling coalition with the SNP.
Now he has joined the Labour group saying its "policies and values" better reflect his own.
It brings the number of Labour councillors on the authority to 15 and increases the ruling Labour-SNP administration's numbers to 25 on the 47-member local authority.
Mr Tait was elected following the death of Annandale North Labour councillor Ted Brown, who died in September 2012 after taking ill and collapsing at a council meeting.
That prompted a by-election which Mr Tait won.
He promised at the time to continue his hard work with Conservative ward colleagues to get the "best deal" for the area.
However, by September last year he was one of a group of councillors who left the group due to a "loss of confidence" in then leader Ivor Hyslop.
They formed the Dumfries and Galloway Council Independent Conservative and Unionists Group.
However, Mr Tait said he had been "hugely impressed" with the way the Labour group had run the council since it formed a ruling administration with the SNP last year.
He said former colleagues might accuse of him of "inconsistency" but said he believed many of his constituents had voted for him on a "personal rather than a political basis".