Dumfries DG One centre repairs closure date agreed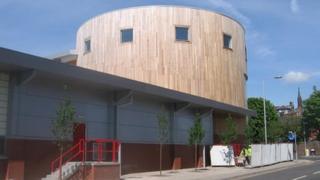 A date has been agreed for the closure of a flagship Dumfries leisure centre in order for major repairs to be carried out.
The works will get under way at the £17m DG One complex on 6 October or "the earliest opportunity after that".
The whole centre will shut for four months and its pool for a further 13.
A temporary pool is to be sited in the car park at the town's Ice Bowl while the Loreburn Hall will be reopened to provide fitness suite facilities.
Dumfries and Galloway Council is seeking to recover the cost of the repairs from contractor Kier.
Work is already under way on preparing the Loreburn Hall for use as a fitness suite.
Busy period
Installation of the temporary swimming pool at the Ice Bowl will get under way on 25 August or as soon as possible after that.
Councillor Ronnie Nicholson, who chairs the policy and resources committee, said it was an "achievable programme of action and timescale" for the works.
"It is important that our council continues to provide first-class leisure services while having essential repairs done at DG One," he said.
"By agreeing that DG One won't close until October for repairs, we can ensure that the alternative facilities are in place before the closure.
"It will also allow the Blue Bonnets conference to take place in town and it will mean that the centre stays open over the busiest period during the summer."