Borders left with one traffic warden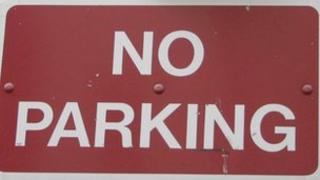 BBC Scotland has learned only one traffic warden is now operating across the whole of the Scottish Borders.
Police Scotland intended to withdraw the service at the end of last month.
They agreed to postpone the move in Stirling, Falkirk and the Scottish Borders in the face of possible legal action.
However, of the Borders three original wardens, it is understood two, based in Hawick and around Kelso, have already left the service.
Only the warden in Galashiels remains.
Police Scotland has stressed that there were no compulsory redundancies.
It added that officers continued to police dangerous or obstructive parking - and enforce the blue badge scheme.
The police stressed that the decriminalisation of parking had been in place in large parts of Scotland for many years, and had "operated effectively".
It said that in areas where the traffic warden service had been withdrawn, police officers continued to work with local groups to "identify areas affected by problematic parking".
Police Scotland added that it would continue to work with "all relevant parties" during the transition to new arrangements.
Changes to legislation in relation to most parking offences mean that there is no longer a requirement for enforcement to be carried out by the police.
A number of Scottish councils have already introduced Decriminalised Parking Enforcement (DPE) but the Borders is not among them.