Dumfries Peter Pan house progress goes on show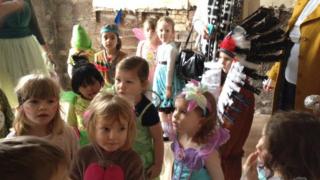 The public is to get a first glimpse of works to turn the house which inspired the Peter Pan story into a national centre for children's literature.
Author JM Barrie played in the riverside gardens at Moat Brae in Dumfries as a child and based Neverland on his experiences.
The Peter Pan Moat Brae Trust saved the property from demolition.
A six-week programme of public tours has been launched to let people see how restoration work is progressing.
Project director Cathy Agnew said it was exciting to have children in the building after so much hard work to complete phase A.
"This is a taste of things to come," she said.
"We have got a group of 15 children, they are three and four-year-olds, they are all dressed up and they look absolutely stunning.
"What amazes me is they all know about the story of Peter Pan."
The house is open on Wednesday, Saturday and Sunday afternoons over the next six weeks.
"We have now got this wind and watertight house with a new roof and all the new windows," said Ms Agnew.
"The house is safe and it is saved for the community.
"We want people to have a look, have a look at our design concepts, have a look at the sort of things that we are wanting to do when we open as a national centre for children's literature and storytelling."
Following acquisition of Moat Brae House and gardens in 2011, the PPMBT undertook emergency works to stabilise the house and install a temporary roof.
Phase A restoration works were undertaken in 2013 and completed in January.
It is hoped the centre could open by 2017.