Annan Athletic fans get debt advice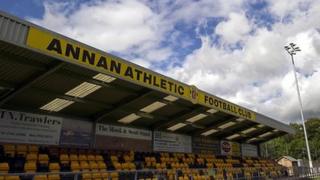 A Scottish League Two football team is to offer debt advice to its fans and the wider community.
It is part of a "unique link-up" between Annan Athletic and Dumfries and Galloway Citizens Advice Service.
The agreement will see the two organisations stage joint campaigns and match-day events.
DAGCAS chief executive, Sue Irving, said it was the first such link-up between an advice bureau and a Scottish league club.
"The work of our bureaux sits well with what Annan Athletic are doing in their community engagement programmes," she said.
"We are both offering services to the community and this will hopefully help us reach football fans, with match-day events in the pipeline.
"Annan Citizens Advice Bureau itself is very close to the ground, and we want fans to know they can pop in for advice on a huge range of issues, from benefits and money to court matters."
Annan Athletic, currently in the running for promotion from League Two, are looking to expand their community services.
Spokesman Philip Jones said: "Annan Athletic look forward to working closely with DAGCAS.
"Given that the club has some 850 members, players and volunteers with the average weekly use of the facility at 2,500 it makes absolute sense that Annan Athletic join with the Citizens Advice Bureau to help, inform and make a difference in the community.
"Both groups share the same goals and we are sure there will be great results from this partnership."