Thousands join Mighty Deerstalker tweed and tartan challenge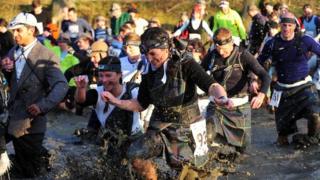 A fancy-dress race for tweed or tartan-clad runners hopes to see 3,500 racers descend on the Tweed Valley.
The Mighty Deerstalker, now in its eighth year, describes itself as the "toughest off-road run in the UK".
The course starts and finishes at Traquair House and has both five and 10 kilometre events on 15 March.
The shorter race takes place in daylight while the longer run is completed in darkness using only a head-torch to light the way.
Organisers, adventure sports company Rat Race, said the courses were a "closely guarded secret" and "certainly much longer than the advertised 5k and 10k distances - adding to the notoriety of this devilishly tricky event".
The first race in 2007 attracted 609 people but this year nearly six times that number are expected to compete.