Dumfries hospital: Five firms vie for road layout contract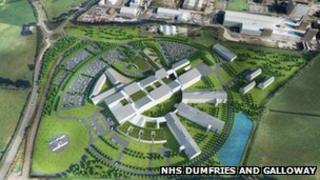 Five companies are vying for a £1.2m roads contract to help pave the way for a new general hospital in Dumfries.
The works will see an upgrade of the Garroch roundabout on the A75 to improve access to the 350-bed complex.
Transport Minister Keith Brown said it was "crucial" that traffic around the £200m facility was "managed well".
The five bidders are Balfour Beatty, RJ McLeod, Barr/Dumfries and Galloway Council, I&H Brown and Fox Building and Engineering Ltd.
Mr Brown said the Scottish government was working closely with NHS Dumfries and Galloway to "ensure good access to the new hospital facilities without impacting unnecessarily on traffic passing through the area".
"The improved Garroch roundabout will help us deliver that ambition and I'm delighted there is so much interest from the construction industry to win the contract to build it," he said.
The contract should be awarded in May with the works hopefully completed by the end of this year.
Construction work on the new hospital should start next year.
Project director Dennis O'Keeffe said there were a number of "enabling works" needed prior to the start of building the facility.
He said NHS Dumfries and Galloway hoped to co-ordinate them to ensure the "least disruption" while delivering a "more cost-effective and sustainable outcome".
"The good and timely progress being made by Transport Scotland and the board in respect of the procurement of the road works at the Garroch roundabout demonstrates this," he added.