Borders Railway: Price and times of services revealed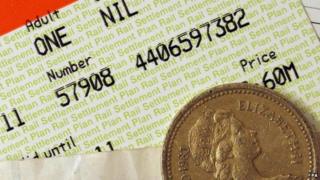 Transport Scotland has unveiled the times and prices of services on the Borders to Edinburgh railway which is due to reopen in 2015.
It said the plans, subject to sign-off from the industry, meant passengers should be able to travel "end-to-end" for less than £10.
It described the announcement as an "exciting milestone" for the project.
Transport Scotland said the average fare across the line between Edinburgh and Tweedbank would be just £3.50.
Passengers using the existing stations on the route - Newcraighall and Brunstane - should find their fares maintained at current levels.
There will be two trains per hour in each direction throughout peak times with an hourly service on Sundays.
Transport Scotland said the timetable was designed to provide "excellent connectivity" to the rest of the Scottish rail network.
The earliest weekday train from the Borders leaves Tweedbank at 05:20, reaching Edinburgh at 06:15.
The latest service from Waverley departs at 23:54.
Transport Minister Keith Brown said: "The Borders Railway will serve a huge cross section of society from the daily commuter starting a new job in the capital to the tourist at the Edinburgh Festival wanting to visit the great Scottish countryside, to the Borders College student enjoying a night out in the city.
"Our fares structure and timetable will ensure that the train will be an attractive travel option for them, allowing them to go end-to-end in less than an hour and for under £10.
"When you take into account the further discounts available through season tickets and student railcards, this will make the fares even cheaper for those who will be travelling regularly on the line."
He said early starts and late finishes would ensure it was not the "traditional rural limited service".
"We are serious about shifting people from road to rail and the Borders Railway will offer every opportunity for that," he said.
Tom Curry, vice chairman for Campaign for Borders Rail, said it was delighted with the pricing.
"The fare structure coupled with the half-hourly timetable will make the railway competitive with bus and car and will no doubt encourage a great number of people to switch to using the train," he said.
"The confirmation that the first service of the day from Tweedbank will make a connection with the 0625 Edinburgh to Kings Cross is a welcome bonus coming from the timetable consultation and will give Borders business folk a sustainable route to London.
"At the other end of the day late night services will also help make passengers' days more flexible and will be particularly crucial when it comes to sporting events and the Edinburgh Festivals."