Lord Lieutenant of Berwickshire steps down from role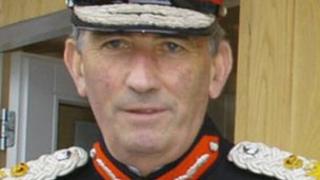 The Lord Lieutenant of Berwickshire, Maj Alexander Trotter, is to step down this weekend after 14 years service as the Queen's representative.
During this period he has welcomed numerous members of the Royal Family to the area.
Maj Trotter - who has to stand down because he has reached his 75th birthday - has also represented the county at several formal occasions.
He was awarded the Commander of the Victorian Order last summer.
His role has seen Maj Trotter has also assessed nominations for honours in addition to helping to arrange royal visits.
He has represented the Queen by presenting honours, medals and awards to the armed forces, participated in civic, voluntary and social activities, and handed out many 100th birthday cards.
No replacement has yet been announced by the Royal household for Maj Trotter.