Beattock station campaign gathers steam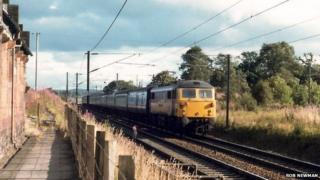 A campaign to reopen Beattock railway station is being backed by local Labour politicians.
Dumfriesshire MSP Elaine Murray and MP Russell Brown have met members of the station action group.
The campaigners believe that bringing the platform back into use would provide significant benefits to the community and the local economy.
Mr Brown, the joint chair of the all-party parliamentary group for the West Coast Main Line, backs that view.
"The group has real ambitious plans for the station and they have put a lot of effort into the campaign," he said.
"There is no denying that the reopening of the station could bring real benefits to the region.
"More and more people are commuting to the central belt for employment, and Beattock is a station that would be used by people from across the area.
"It could also help boost tourism in the area."
A bid is currently being made to secure funding to build new railway stations across Dumfries and Galloway.
The local authority wants to tap into a £30m fund set up by the Scottish government.
The council's Labour-SNP administration has unveiled plans to seek government funding to establish up to four new local train stops.
In order of priority, they could be at Thornhill, Eastriggs, Dunragit/Glenluce and Beattock.