Warning after dog thefts at Dumfries and Annan shops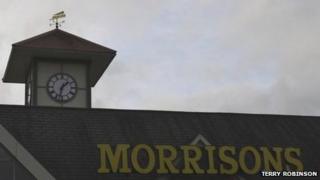 Police have issued a warning after four dogs were stolen from outside supermarkets - then found near other stores in the south of Scotland.
Three of the thefts took place outside the Morrisons in Dumfries, and the other at the Co-operative in Annan.
The dogs were released from their leads, and in one incident an unlocked car. They were later found in other store car parks - one 16 miles away.
Police said the motive was not known and urged dog owners to be vigilant.
The three dogs taken from outside the Morrisons store - a Border Terrier, a Jack Russell and a Staffordshire Terrier - were found near a Tesco supermarket some distance away.
A Bedlington whippet, which was taken from outside the Co-op in Annan, turned up 16 miles away outside the Morrisons in Dumfries.
The dogs were all unharmed.
Pc Judith Richardson, of the Dumfries Community Policing Team, said: "Clearly the dogs are being targeted - for whatever reason.
"While in these four cases there has been a happy ending, the next dog may not be so lucky.
"Owners should ensure that they do not leave their pets open to possible theft or interference when out and about shopping."