Kirkcudbright band leader Bert Rae hits Candlemas landmark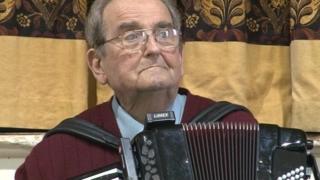 A south of Scotland accordionist is taking up his role as band leader at his local secondary school's Candlemas Ball for the 60th year in a row.
Bert Rae will head proceedings at Kirkcudbright Academy - thought to be one of the last in Scotland to celebrate the day.
Candlemas was particularly important to the farming community as it was the date when hiring fairs were held.
The Kirkcudbright ball starts with a grand march of pupils.
"There is some 200 comes in - the boys will come in one door and the girls in the other and they meet at the bottom of the hall," explained Mr Rae.
"They come up in twos, they go back round the hall and come up in fours and go back round the hall and come up in eights.
"They stop there and that eight are now set for the first dance which is an eightsome reel."
Mr Rae said little had changed over his 60 years leading the celebration.
"The dances are still very old-fashioned which the kids love at the time - they don't like it after they leave school mind you, they're back into their discos and pop bands and what have you," he said.
"But while they are there they are enjoying the old time dancing, they get dancing with a woman in their arms whereas they go to a disco and they just stand and look at each other.
"Well that's the way I see it anyway."
Mr Rae may be a veteran of such occasions but it is a new one for Kirkcudbright Academy's head teacher Anthony Tuffery who only came to the school in December.
However, he has heard all about the Candlemas Balls and understands their importance.
"It's pretty much all I have been hearing about for the last few weeks, it seems to be the biggest day of the year for the school and the whole town," he said.
"I think tradition is very important, it sets an ethos for a school.
"It is something that is valued and it does tie the school and the community together very much, particularly here where that tradition is so long-standing that people's grandparents can remember their Candlemas as well."
The date of Candlemas, 2 February, is celebrated by Christians as the feast of the purification of the Virgin Mary - or presentation of Christ in the Temple - and is often celebrated with a display of candles.
The Dumfries and Galloway school has a tradition going back about 200 years to hold a celebration around that time.