Where could a would-be David Beckham create a Scottish football 'franchise'?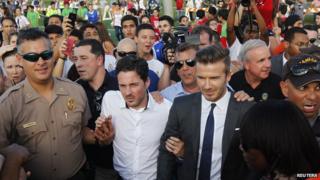 It is a flight of fancy, of course.
The worlds of sport in the US and in Scotland are two very different beasts.
But when David Beckham announced plans for a team in Miami - a city which has not had an Major League Soccer (MLS) outfit since 2001 - it prompted a question in the mind of this football fan.
What if, for some reason, a sporting superstar cast a similar eye across Scotland?
Where would they find the biggest population centres without a side in the Scottish Professional Football League set-up?
Here are five places currently outside the 42-team framework that a wannabe Beckham might chose.
East Kilbride
With more than 70,000 residents, Scotland's first New Town - established in 1946 - is the biggest population centre without a side in the top tiers.
It does, however, have a team in the recently formed Scottish Lowland League, currently sitting in midtable.
It also boasts East Kilbride Thistle, who play in the West of Scotland Central Second Division of the Scottish Junior Football League.
In addition, it is home to the football firm Goals Soccer Centres.
However, it could be set to get its place in the SPFL courtesy of Clyde.
Its owners voted last year to move the team to East Kilbride and rename the club EK Clyde.
Glenrothes
Another New Town without a place at the SPFL table is Glenrothes, one of the largest towns in Fife.
Local team Glenrothes Juniors sit in the middle of the East Premier of the Scottish Junior set-up.
The Glens finest hour was probably victory in the Scottish Junior Cup in 1975 in front of a crowd of more than 17,000 at Hampden.
Coincidentally, the victory came against Rutherglen Glencairn - another of Scotland's largest towns currently without an SPFL side.
Irvine
Irvine boasts two teams in Scottish Junior football with both Irvine Victoria and Irvine Meadow taking part.
Meadow are in the more lofty position, in second spot in the West of Scotland Super League Premier Division which they have won three times.
They are also three times Scottish Junior Cup winners, most recently in 1973.
Victoria are third in the Ayrshire District League.
Wishaw
Wishaw is the biggest of a string of towns across the central belt with populations of 15,000 or more but no side in the SPFL.
Local team Wishaw Juniors, play in the Central District Second Division, where they sit in third place.
Galashiels
Further down the population list, but in a region without a league team, is Galashiels.
They do have Gala Fairydean Rovers in the Lowland League.
The Scottish Borders is a heartland of rugby which perhaps explains its lack of an SPFL team.
In addition, fierce local rivalries make it hard to imagine fans in one town might get behind a near neighbour.
But smaller towns than Galashiels have made their mark on the Scottish game.
Premiership side Ross County, based in Dingwall, has the lowest population to draw on for its support at about 5,000.
And it was not so long ago that Gretna, a town of about 3,000, had an SPL team, played a Scottish Cup final and played in Europe.
So maybe some Scottish town finding its own answer to David Beckham is not so far-fetched after all.
Although Gretna's financial demise might well serve as a warning to any footballing icons with a few pounds to spare.