Dumfries and Galloway and Scottish Borders councils set budget plans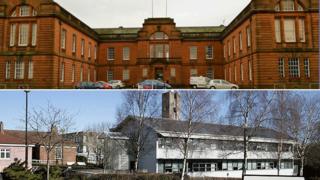 Two south of Scotland councils have set their budget plans for the financial year ahead.
In Dumfries and Galloway, the Labour-SNP administration needed to cut about £7.5m from spending.
However, it said its plans would help stimulate employment, boost the economy and protect the vulnerable.
The Independent, Lib Dem, SNP coalition in the Borders also outlined spending priorities including flood protection, roads, schools and better broadband.
It said it showed the council's commitment to residents in a "challenging financial period".
SBC leader David Parker said he was pleased the proposals had been agreed.
"Local authorities across the country have had to look closely at how they operate while finances remain tight and I'm confident the long term plans we're putting in place will stand this council in good stead," he said.
"I'm particularly excited about the capital projects listed in our plans including significant investment in roads, schools, flood protection schemes and state-of-the-art sports pitches."
'Deeply difficult'
In Dumfries and Galloway, the social work budget will receive an increase of almost £2m.
A further £1.5m investment was also agreed to support a scheme to create 400 job opportunities for local businesses over three years.
Council leader Ronnie Nicholson said: "When the new administration was formed, I highlighted the main challenges I believed our region faced.
"Our local economy is still in a deeply difficult position with unemployment, particularly amongst young people consistently above the national average and we have the shocking record as the lowest paid region in Scotland."
He said he was pleased the authority had agreed the investment to create new jobs and the extra funds for social work.
"I believe this agreed budget shows that the new coalition is determined to build our local economy and protect the most vulnerable in our communities," he said.