Kieran Nichol death: Doctor struck off for clinical care failure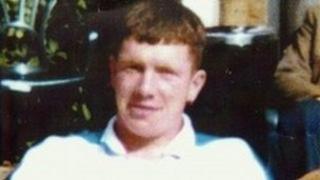 A doctor has been struck off for failing to provide good clinical care to a patient who died of a drug overdose.
Dr Lal Sharma was contracted to work part-time at Castle Craig Hospital in the Scottish Borders when 20-year-old Kieran Nichol was found dead.
A 2010 fatal accident inquiry found the death was "entirely preventable".
A tribunal concluded the treatment by Dr Sharma fell "seriously below the standard expected".
It heard Mr Nichol, from Hawick, was given three doses of methadone within a 24-hour period.
Dr Sharma was criticised for failing to spot the patient was "over-medicated" despite the evidence.
The doctor did not attend the fitness to practise hearing at the Medical Practitioners Tribunal Service in Manchester, where Mr Nichol was referred to as Patient A.
Chairman Dr Brian Alderman said: "Dr Sharma failed to provide good clinical care for Patient A on 10 December 2005.
"His actions and omissions combined with other institutional failures within Castle Craig contributed to the events which led to the death of Patient A.
"Whilst not holding Dr Sharma responsible for the death of Patient A, the panel is concerned that Dr Sharma still fails to recognise that he should have done anything differently."
The tribunal ruled that Dr Sharma failed to make an adequate assessment of Mr Nichol or recognise his patient was "over-medicated" despite this being clearly indicated in the nursing notes.
He also failed to review the medication planned, did not seek a second opinion or arrange an adequate treatment plan, the panel found.
Dr Alderman said: "The treatment provided by Dr Sharma to Patient A on 10 December 2005 was seriously below the standard expected of a medical practitioner."
Mr Nichol was admitted to the clinic on 9 December after relapsing into drug use following an earlier detox at the same hospital.
Over that weekend, Dr Sharma was on the duty rotas of both the Lanarkshire out-of-hours service and Castle Craig.
The panel found he had been dishonest in doing this as neither organisation knew he was working for the other simultaneously.
It found no "causal link" between Dr Sharma working for the two services and his failure to provide good clinical care.
'Embarrassment and upset'
"However, it goes without saying that working for two different services simultaneously inevitably leads to the risk that one set of patients will receive sub-standard and/or untimely care," it added.
"The panel regards this as an example of Dr Sharma putting his own interests before those of his patients."
He was also found to have caused "embarrassment and upset" to a woman, known as Patient B, when he failed to offer her a chaperone during a routine consultation in July 2008.
In written submissions, Dr Sharma apologised to "all patients, families, the GMC and his colleagues" and said that none of his actions were "premeditated and intended to be dishonest".
He added: "I relive my shortcomings and pain every day."
However, Dr Alderman said Dr Sharma had shown "inability to adhere to clear guidelines and to learn from his mistakes" and the panel ruled he should be struck off.