Scottish Borders school parking order on horizon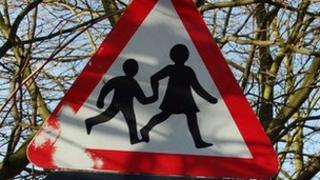 Work is under way to get legislation in place to prosecute motorists who park on zig-zag lines outside Borders schools.
Roads at about half of the local schools are not covered by traffic regulation orders despite having yellow lines.
Scottish Borders Council is hoping to have orders in place within months.
Last week saw concerned parents take photographs of cars on zig-zags outside St Peter's in Galashiels.
They passed the images to police but were told no action could be taken because there was no regulation order.
It has emerged that St Peter's was not an isolated case as 32 other schools throughout the Borders are in a similar position.
Ettrick, Roxburgh and Berwickshire MSP John Lamont said: "Clearly there is a major concern that the necessary legislation to take action was not put in place at the time of the lines going down.
"Safety outside schools is of paramount importance and as a result of this decision traffic is not going to be kept away as the police cannot enforce it and keep entrances clear which is very disappointing as the zig-zags are there for a reason.
"Notwithstanding this revelation I would encourage all parents to act responsibly and park in appropriate areas near the school and not put children at risk."
'Final stages'
Scottish Borders Council said it was in the final stages of completing a regionwide TRO which it hopes will be enforceable in two or three months' time.
A council statement said: "Zig-zag markings in Parsonage Road, Galashiels, at St Peter's Primary School are included in a Borders-wide Traffic Regulation Order to be made soon.
"When the order has been made, police will be able to carry out enforcement.
"The council is in the final stages of the TRO process and would expect it to be enforceable in two to three months."