Borders Railway: Black Path closure 'unavoidable'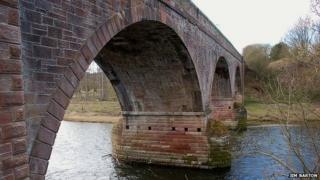 The project director on the Borders Railway has said an eight-week closure of an "extremely popular" walking and cycling route is "unavoidable".
The Black Path between Langlee and Tweedbank will be shut from 17 February.
It is to allow a series of improvement works on the Redbridge viaduct over the River Tweed.
A footpath diversion via Galafoot Bridge will be in place for the duration of the works.
Work on the bridge will continue once the path reopens, with the walking route fenced off.
Once the railway opens in autumn 2015, a footpath will be retained alongside the railway.
'Grand structure'
Network Rail project director Hugh Wark said: "We know that the Redbridge viaduct link between Langlee and Tweedbank is an extremely popular walking and cycling route and we've done all we can to retain that access until now.
"The improvements we're making to the bridge mean that this relatively short eight-week closure is unavoidable - we apologise for the temporary inconvenience.
"The bridge itself is in excellent condition and the structural works required are minimal.
"Once complete, this grand old structure will form another iconic landmark on the Borders Railway route."