Hawick man jailed over Borders General Hospital disturbance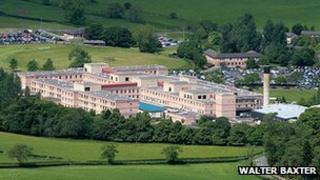 A man who caused a disturbance in the accident and emergency department at the Borders General Hospital at the weekend has been jailed for six months.
Jason Lowe, 32, of Hawick, put other patients in a state of fear and alarm by shouting and swearing.
He put a monitor cable around his neck and wedged his body between the rails of a bed, refusing to move.
It was only when a fire service crew arrived to cut him free that he finally released himself.
At Selkirk Sheriff Court, Lowe admitted a charge of threatening or abusive behaviour and breaching three bail orders.
He had been in custody at Hawick Police Station on an unrelated matter when he started coughing up blood and an ambulance was called to take him to the BGH.
During his police interview he claimed the emergency service workers treating him were unprofessional and that he suffered from severe depression.
Lowe tried to claim he had been coughing up blood due to a burst stomach ulcer.
However, after a doctor diagnosed he was suffering from gastritis and that he was likely to be discharged, he became agitated, demanded a second opinion as well as swearing loudly.
Defence lawyer Iain Burke said: "He felt he was not being taken seriously. This was borne out of frustration and he wants to apologise for his behaviour."
Sheriff Peter Paterson told Lowe emergency workers deserved to be treated with "dignity and courtesy" at all times.
"Your behaviour was bad enough but it was exacerbated by the fire brigade being called out," he said.
"There is no alternative to custody."