TweedLove Borders bike festival hopes for 15,000 visitors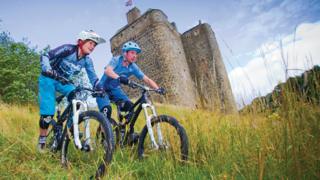 A Borders bike festival is aiming to attract 15,000 cycling enthusiasts to the region during its extended two-week programme in May.
TweedLove, based in Peebles, is now in its fifth edition and hopes to generate £1.2m for the local economy.
This year it includes a round of the Enduro World Series as part of proceedings from 24 May to 8 June.
The region is also expected to see an influx of 3,000 road cyclists for the Tour o' the Borders sportive in August.
More than 30 events are planned as part of the Tweedlove programme, which takes place over three weekends this year.
Director Neil Dalgleish said: "There's no doubt this year's festival will be the biggest yet so we're expecting a huge increase in the numbers of visitors as well.
"The Enduro World Series race alone will see 600 cyclists, many of them professional athletes, from across the world converge on the valley.
"And, of course, the riders will be bringing with them their families, friends and, in the case of the professionals, their team managers and support crews."
That has led to the projection of 15,000 visitors during the duration of the festival.
The Tour o' the Borders, now in its third year, is also hoping for a bumper attendance this year when it will take place on closed roads for the first time - offering a traffic-free route.
Organiser John Anderson said: "The tour is the perfect way to attract people to the area and show them just how beautiful the scenery is here.
"I hope people realise how much cash an event like this brings to the local area and we all work together to offer the cyclists a warm Borders welcome."
VisitScotland regional director Paula McDonald said it was delighted to have the TweedLove festival as part of its Homecoming Scotland programme.
She said it had gone from "strength to strength" and that the area offered "some of the most stunning yet challenging mountain bike terrain in the country".
"This will be a fantastic event for locals, visitors and businesses - we can't wait to welcome the world," she added.