Falkirk, Peebles and Helmsdale win Creative Place Awards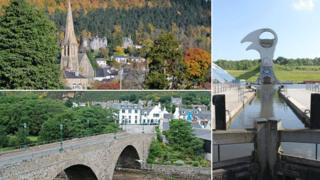 Three communities have won a total of £300,000 towards arts and cultural projects at the Scottish Creative Place Awards held in Kilmarnock.
Falkirk secured the £150,000 prize for places with under 100,000 residents.
Peebles in the Borders landed £100,000 for areas with under 10,000 inhabitants and Helmsdale in Sutherland took the £50,000 for those with under 2,500.
Creative Scotland chief executive Janet Archer said all the bids submitted this year had been of a "high calibre".
Falkirk saw off Dumfries and Orkney to take its award while Peebles' category contained Arran and the area covering Cove, Kilcreggan, Rosneath, Clynder and Garelochhead.
Helmsdale was up against Kingussie and Ullapool.
In Falkirk the funding will be used to support a project called Acts Of Discovery aimed at offering audiences a "fresh look at the area and its cultural offering".
Alan Bissett, author and project supporter, said: "This - like the recent completion of the magnificent Kelpies sculpture - should really help amplify focus on Falkirk as a cultural hotspot.
"I'm very proud of my hometown and look forward to helping bring to national attention the imaginative talents and energies of the people who live there."
Peebles plans to support an "imaginative set of activities, events and installations".
Caroline Adam, general manager at the Eastgate Theatre and Arts Centre, said: "This is a wonderful recognition of the creative energies that make Peebles so special; and a great opportunity to make the town better, brighter and busier than ever."
Helmsdale is looking to run an additional programme alongside its planned Paradigm North project in 2014.
It will be called Serendipitous North and will map the "creative connections that exist within the remote community".
'Enriching communities'
Anna Vermehren, director at the Timespan museum and arts centre, said: "It is Timespan's mission to be a cultural meeting place, and our role to engage the local population and our visitors in projects initiated and directed by contemporary artists of national and international renown.
"We would like to express our sincere gratitude to everyone who has contributed to today's success."
Ms Archer congratulated all those receiving awards.
"I look forward to visiting Helmsdale, Peebles and Falkirk to see how this money has contributed to enriching each community through these creative programmes," she said.
"We received a high calibre of applications for this year's awards and the judges had an extremely difficult decision selecting the winners.
"Every single submission has evidenced how imaginatively communities across Scotland are using creativity to transform lives and inspire new futures."