Bo'ness man caused Kelso couple's deaths at Carfraemill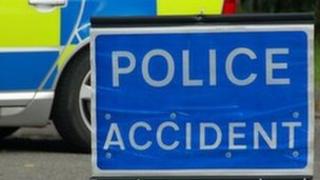 An IT consultant from Bo'ness has admitted causing the deaths of a Kelso couple by dangerous driving.
James Mitchell, 48, drove his red Hyundai i30 head on into a silver Kia Cee being driven in the opposite direction on the A697 near Carfraemill.
Derek Peoples, 53, and his 51-year-old wife, Avril, from Kelso, suffered fatal injuries as a result of the collision.
At the High Court in Edinburgh, Mitchell was remanded in custody and sentence deferred to 26 February.
The accident happened on the rural route in the Borders in December 2012.
Paramedics battled to save Mr and Mrs Peoples' lives - but they died within an hour of each other after being freed from their car by emergency service crews.
The court heard that when police asked Mitchell at the accident scene whether he was the driver who caused the crash, the first offender replied: "It was me, yes."
Prosecution lawyer, Alex Prentice QC, told the court that Mr and Mrs Peoples were travelling home after spending the weekend with friends near Galashiels.
The court heard how Mitchell - who was travelling with his wife - had been trying to overtake a lorry when he collided head on with the other car.
Margaret Mills, who was driving a vehicle previously overtaken by Mitchell, witnessed the accident and phoned 999.
The lorry driver heard a loud bang but was unaware that a collision had taken place.
Mr Prentice also told the court about how emergency crews battled to save the lives of Mr and Mrs Peoples.
He added: "Mr and Mrs Peoples had been married since 1981 and had two children, a son aged 29 and a daughter aged 27.
"On the arrival of the paramedics they noted that Derek Peoples was trapped within the driver's seat of his vehicle.
"He was conscious and shouting for paramedics to help his wife Avril."
'No illusion'
They were both wearing seatbelts and had to be cut free from their vehicle but Mrs Peoples died in an ambulance sent to the scene.
Her husband was taken to Edinburgh Royal Infirmary but died an hour after his wife.
Collision investigators concluded that Mitchell should not have overtaken the lorry at that point in the road as he did not have a good enough view of the opposite carriageway.
He was later arrested and charged with causing death by dangerous driving.
Defence solicitor, advocate Euan Roy, told the court that it was obliged to defer sentence to obtain a report about his client's character.
However, he said Mitchell was "under no illusion" about what his sentence was likely to be.