Hamilton man banned over 'horrific' Johnstonebridge crash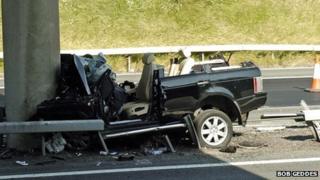 A driver who was seriously injured in a "horrific" crash on the A74(M) in which his wife and daughter were also hurt has been banned from the road.
Peter Cairney, 65, of Hamilton, admitted driving carelessly and driving with a provisional license without "L" plates or supervision last July.
A court heard how the Range Rover he was driving struck a bridge support near Johnstonebridge.
Cairney was banned for 32 months and fined £540.
His solicitor told Dumfries Sheriff Court his client had never held a full licence and had not intended to drive on the day of the accident.
However, Cairney's other daughter had been due to pick up the family from holiday but had called off, and he had taken the decision to drive.
He ended up colliding with the central reservation on the motorway in Dumfries and Galloway with the car finishing jammed against a bridge support.
The solicitor added: "It was a horrific accident from which he is still recovering and is something that will never leave him and he will never take to the road again."
The road was closed in both directions for some time with thousands of vehicles queued back for up to six miles.
Cairney's wife was airlifted to hospital in Edinburgh for treatment while he and his daughter were taken to Dumfries Infirmary.