Galashiels schools shake-up likely under council budget plans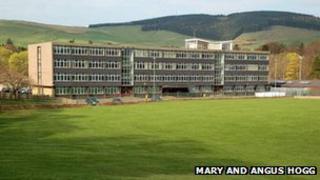 A schools review planned for Galashiels could see a major shake-up in provision by the end of the decade.
Primary schools are likely to be amalgamated - and a new academy built - on a "super-campus" around the secondary's current site.
The investment is promised as part of Scottish Borders Council's administration's budget plans.
The ruling Independent, SNP and Lib Dem coalition unveiled its spending proposals earlier this week.
They will have to be agreed by the full council early next month.
Under the plans, education has been allocated about £95m for 2014/15 - a small rise compared with the previous year - and slightly more than a third of the council's total revenue budget.
About £6m is being saved over the next five years with head teachers' funding controlled more rigidly, salary-conservation deals ending, changes for non-teaching staff and the use of schools outside hours.
Plans for an asymmetric school week - bringing hours into line across the region - are also aimed at producing savings.
However, the authority also intends to spend money on a new high school for Kelso and an extension to Langlee Primary as well as the overhaul of provision in Galashiels.