Borgue residents evacuated from flat fire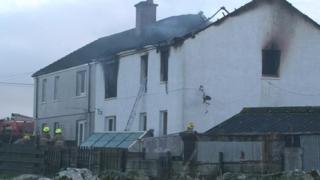 Residents have been evacuated from a block of flats in a south of Scotland village after fire broke out in the early hours of the morning.
More than 20 firefighters have been tackling the large blaze at Borgue near Kirkcudbright.
The blaze in a block of four flats at Sunnybrae broke out at about 01:00.
Fire crews from Kirkcudbright, Gatehouse, Castle Douglas and Dumfries were deployed and nine residents were led to safety.
The people affected are now staying with relatives.
The blaze has caused severe damage to the upper floor and roof of the building and firefighters remained at the scene.
An investigation into the cause of the blaze is scheduled to be carried out later.