Dumfries and Galloway Council could quit Cosla umbrella group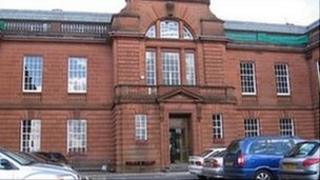 Dumfries and Galloway Council has tabled plans which could pave the way for it to leave Scotland's local authority umbrella group Cosla.
It has given notice that it intends to terminate its £110,000-a-year membership.
However, it has reserved the right to change its mind in the next 12 months.
Scottish Borders Council has called for a review of the Cosla constitution, and standing orders and a "scoping paper" on that move is being drawn up.
Councillors in Dumfries and Galloway were told the outcome of any review would probably not be known until the summer.
Labour councillor Colin Smyth insisted it would be wrong to commit the authority to maintaining its membership at the present moment.
"I think Cosla has been really good for Dumfries and Galloway - I think it provides a strong voice for local government across Scotland," he said.
"But this review is deeply worrying, there could be changes that will reduce the influence of Dumfries and Galloway.
"I don't think we should be a party to that and we should send a strong signal that says if we don't like the changes, we simply won't be members."
The move was voted through with only two dissenting voices - one was independent councillor Jane Maitland.
She said she believed it sent out the wrong message.
"It is incredibly important for an area such as Dumfries and Galloway to be represented centrally," she said.
"All sorts of things hang on our membership of Cosla - not least influence at the centre and opportunity to lobby, information exchange and the use of professional officer information.
"All sorts of things which are absolutely essential to the smooth working of an organisation such as Dumfries and Galloway Council."