Scottish visitor number rise 'encouraging'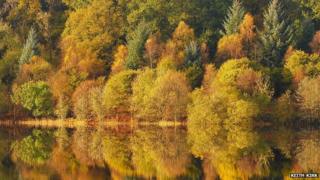 Tourism Minister Fergus Ewing has described a rise in visitor numbers and spending in Scotland as "encouraging".
The Office for National Statistics has released figures for the period between October 2012 and September 2013.
The number of domestic and overseas tourists rose by 2% from the previous year, while spending was up 4%.
The Scottish government said the growth had been fuelled by a rise in visitors to rural areas such as the Highlands and southern Scotland.
It said that reflected the success of the Year of Natural Scotland.
Expenditure in Scotland from North American visitors showed a 12% increase, while there was a 17% rise from the rest of the world excluding North America and Europe.
Mr Ewing said: "These encouraging figures come on the back of a strong summer that has helped our tourism industry enjoy continued growth.
"VisitScotland's confidence to continue investing in European markets has proved successful, as has the agency's tourism drive in North America and the Far East.
"The rises in expenditure suggest that Scotland is thought of as a destination offering quality experiences and visitors are prepared to spend their money in our hotels, tourism attractions and restaurants as a result."
He said new air routes such as Virgin Little Red routes into Edinburgh and a new route from Air Canada Rouge would "open up our country to more visitors".
"Scotland offers a world class tourism experience," he added.
"This is why the Lonely Planet's Best in Travel 2014 has named Scotland as the third best country to visit in 2014 and CNN also included Edinburgh in its list of 'Ten Best Cities for a Winter Vacation'.
"We are well placed to make the most of that demand as we welcome the world this year to Homecoming 2014, as well as take to the global stage as host to two of the biggest sporting events in the world - the 2014 Glasgow Commonwealth Games and the Ryder Cup.
"The MTV Europe Music Awards will also showcase Glasgow and Scotland to nearly 700 million households through MTV's global network of channels."
Mike Cantlay, chairman of VisitScotland, said the Year of Natural Scotland had proved a great success.
"With fantastic weather and boundless energy, enthusiasm and engagement from across the tourism industry, visitor numbers soared higher than the sun," he said.
"VisitScotland's confidence and continuing investment in European markets, despite unpredictable economic climates, has proved tangible with a large rise in spend and visits from this continent overall.
"Strong growth in the domestic market has been fuelled by a rise in visitor numbers to rural areas including the Highlands and south of Scotland, which reflects the success of putting an emphasis on 'the great outdoors' in 2013."
He added that it was vital to "keep the momentum going".
The full breakdown of the latest figures is available on the ONS website.