'Rolex' drug puts Dumfries man in hospital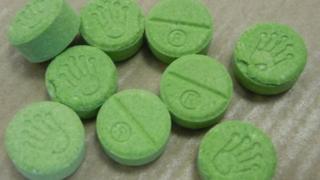 Police have issued a warning to members of the public after a Dumfries man ended up in hospital after taking a "green Rolex" ecstasy tablet.
The drug has been linked to "numerous deaths worldwide".
The man involved in the latest incident suffered overheating, vomiting, hallucinations and a "protracted tingling effect on fingers and toes".
Police said the drugs are thought to have been purchased in the region. The man was released after treatment.
The tablets are believed to contain little of the active ingredient of ecstasy but have other elements which are known to raise blood pressure and body temperature.
After the weekend incident, Ch Insp Mark Hollis from Police Scotland said: "It's very concerning, but not surprising, that tablets of this type are circulating in our area.
"Tablets like these have had a devastating effect to users in other areas of Scotland, Northumbria and Northern Ireland over the past few months.
"We would like to warn members of the public about taking any type of drug, but at this time particularly tablet-based stimulant substances."
Hugh Robertson, service manager with support agency Addaction Dumfries and Galloway, said it was a concern such tablets were circulating.
He urged anyone who may have used, or been offered them, to contact the agency or seek medical attention.
"We would repeat our consistent message that using any form of medication or substance which is restricted brings many dangers," he said.
"The growing use of new psychoactive substances (legal highs) and other stimulant type drugs across our region could prove fatal at any time.
"We would ask the public to be very careful when using these substances to avoid them as much as possible."
Det Con Scott Jardine, substance misuse co-ordinator for Police Scotland in the region, said it was not just the "green Rolex" tablet which was of concern.
'Quality control'
"The type of tablet mentioned is just one of many that we have been notified of recently which are hugely concerning," he said.
"We have observed numerous incidents throughout the United Kingdom where users have taken substances which they believed to be a 'safer' drug only to be hospitalised or have potentially fatal consequences merely because the substances contained within the drug was unknown.
"Only last year we had a local young male who unfortunately died as result of taking such a tablet.
"There is no quality control in the manufacture of these tablets and the effects differ from person to person."
Moira Cossar, service manager with the region's Specialist Drug and Alcohol Service, said there was clear evidence of the dangers of the tablets.
"We would ask anyone considering taking any illicit drugs to think very carefully about the risks they are taking," she said.
"Anyone who has taken one these tablets or knows someone who has and is experiencing worrying symptoms should seek immediate medical advice via their GP, NHS 24 or dial 999."