Borders General norovirus outbreak impact extends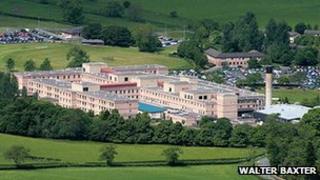 A norovirus outbreak at Borders General Hospital has affected another two wards in addition to the one already closed to admissions.
Ward 10 for elderly patients remains shut and bays on wards 4 and 12 have now also been closed.
The situation is being monitored by NHS Borders management and staff with help from the infection control team.
A ward at Dumfries Infirmary, in neighbouring Dumfries and Galloway, also remains shut by norovirus.
NHS Dumfries and Galloway's infection control manager Elaine Ross said: "There are a number of viruses involving sickness and diarrhoea circulating within the community.
"Anyone who has experienced the virus is advised to remain at home for at least 48 hours following their last symptom as per NHS Scotland advice."
She thanked visitors and staff for their "ongoing support and understanding in helping to confine the spread of the infection".