Dumfries Infirmary ward shut by norovirus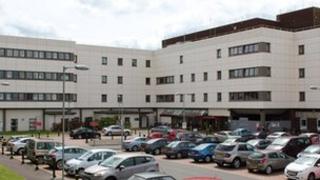 A second hospital in southern Scotland has stopped admissions to a ward for the elderly after an outbreak of the norovirus.
Ward 18 at Dumfries and Galloway Royal Infirmary has been affected.
NHS Borders confirmed on Friday that it had taken similar action over an outbreak in ward 10 at the Borders General Hospital.
Infection control measures have been put in place at both hospitals to try to tackle the situation.
Dr Ed James, a consultant microbiologist with NHS Borders, said people with underlying conditions needed to take extra care.
"Norovirus is unpleasant for most of us but not dangerous," he said.
"However, if you have got some co-existing medical condition - maybe a heart problem or a kidney problem, something like that that makes you more susceptible to dehydration - then these people probably ought to be in touch with their doctor or NHS 24 sooner rather than later to avoid any problems developing."