Demolished Dumfries and Galloway dune repairs under way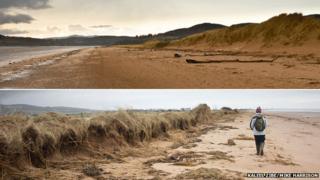 A clean-up is under way at the RSPB's nature reserves in Dumfries and Galloway after recent storms caused damage along the coastline.
The impact of the bad weather and storm surges was felt most at the Mersehead reserve near Southwick.
It suffered salt-water flooding that stretched far inland and altered the dune landscape of its beach.
However, RSPB Scotland said the damage could have been even worse without natural defences in the area.
The cost of clearing up the area is still estimated to run to thousands of pounds.
RSPB Scotland said the fact the land was run as a nature reserve meant there had been no damage to property or fields nearby.
New pools
Reserve manager Colin Bartholomew said: "We've got a lot of clean-up work to do at the reserve now, including collecting a vast amount of debris.
"The salt water will naturally be flushed from some of the wetland areas, but one of the most interesting prospects will be to see how the layout of the coastal strip has changed.
"New tidal creeks and pools will have been formed and whilst areas of dune have been lost, sand and sediments will have been shifted to form the very early beginnings of new dunes."
He said that only by managing the area as a nature reserve could such "dynamic forces of nature be allowed to act with a relatively free rein".
"This is a lesson for the future for other coastal strips, as with sea levels rising, there will inevitably be more tidal surges of this and even greater magnitude," he said.
RSPB Scotland said one of the "big unknowns" at Mersehead was the fate of its natterjack toads.
The reserve is home to one of the most northerly colonies of the amphibians in the UK, and the area in which they hibernate was inundated by floodwater.
As a coastal species, however, RSPB Scotland said they may be able to adapt to the sudden event and be found to be safe and well in new areas on the reserve by spring.