Dumfries and Tain residents toast £600,000 Lotto wins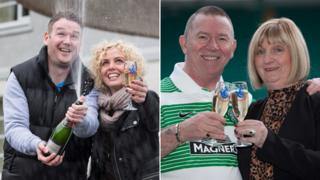 A Dumfries council worker and an engaged couple from Tain are celebrating scooping nearly £600,000 in Saturday night's Lotto draw.
Alfie Crosbie, 60, used a combination of his grandchildren's ages to pick his numbers.
While Barry Loughrey, 36, and fiancee Ildi Kiss, who will get married in July let a Lucky Dip make their choices.
They both landed five numbers and the bonus ball to secure a payout of £585,956.
Mr Crosbie said he would buy a new car and might also treat himself by going to more football matches of his favourite team, Celtic.
Describing the moment he won, he said: "I just couldn't believe it so I shouted my wife Anne down to double check.
"When she saw the numbers she burst into tears.
"Then we were straight on the phone to my daughter Carrie who lives in Catterick; she jumped into her car right away to drive up and join us."
Accountant Mr Loughrey decided to check the numbers on Sunday morning on his mobile when the couple were sitting in the car park of a local supermarket.
"When we saw we had matched the five numbers and the bonus ball we checked what the prize would be," he said.
"The connection was really poor so all we could see was £585.
"We thought great that will pay for our wedding photographer until I spotted that there was a comma after it.
"We headed straight to my mum and dad's to check on their computer and were in a state of shock when we saw there was not only a comma but another three zeros!"