Annan Spar shop armed siege man Peter Boyd jailed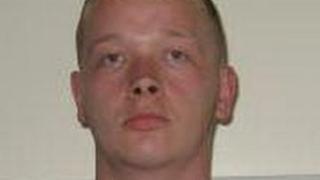 A man who carried out a three-hour armed siege at a grocers shop while draped in the union flag has been jailed for six years.
Peter Boyd, 27, went to his local Spar shop in Annan armed with two knives after posting on Facebook he was going to carry out the raid.
He held up two female workers in the shop at Butts Street and sparked a major incident in August last year.
A judge told him the impact on his victims was "significant and serious".
At the High Court in Glasgow, Lord Turnbull told Boyd that, but for his early plea of guilty to a charge of abduction and robbery, he would have jailed him for eight years.
He said: "You pleaded guilty to a most serious offence, one that is fortunately only seen rarely.
"The impact on the victims was significant and serious as was the disruption in the local area."
The court was previously told how he put a number of messages on Facebook about his plans.
One read: "Right, see you all later - am away to hold a shop hostage. I won't be able to reply."
Firearms unit
Boyd - draped in a flag and armed with two knives - targeted the Spar shop at about 16:50 on 10 August last year.
He ordered workers Carole Patterson, 32, and Casey Donaldson, 29, to close the shutters and lock the doors.
A customer was also ordered out - but Ms Patterson whispered to him to call the police before he left.
Boyd, who lived near to the Spar shop, meantime ordered the women onto the floor.
Police officers later arrived - including a firearms unit - and the area was cordoned off.
It was while Boyd was on a phone call to a police negotiator at about 19:20 that Ms Patterson grabbed the knives he had left on the floor before fleeing the store with her colleague.
He surrendered himself to officers about an hour later.