Borders police traffic warden service removal 'mayhem' claim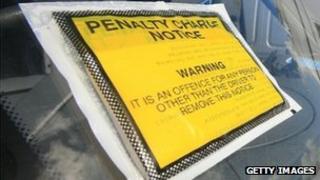 A senior councillor in the Borders has claimed the removal of the police traffic warden service could result in "mayhem" in towns across the region.
Police Scotland is withdrawing the service in a bid to save money.
Selkirkshire councillor Gordon Edgar said he had no doubt the move would be "detrimental" to town centres.
Police Scotland said changes in legislation meant the service had already been removed in other parts of the country.
Mr Edgar said: "At the moment, just with the threat of the possibility of a traffic warden coming along, people do tend to try and abide by the rules.
"There are, of course, a few that don't and that is why the traffic wardens are maintained.
"If that is taken away, it will be detrimental to the Borders - it is just going to be mayhem in the centres of towns."
He said Scottish Borders Council did not have the funds to run the service itself.
Late last year the Scottish councils' umbrella organisation, Cosla, said a number of authorities had already introduced Decriminalised Parking Enforcement (DPE) or were in the process of doing so.
At the time the councils with it in place were:
South Ayrshire
East Ayrshire
Renfrewshire
East Renfrewshire
Glasgow
South Lanarkshire
Edinburgh
Fife
Dundee
Perth & Kinross
Aberdeen City
Applications were also "live" for East Dunbartonshire, Inverclyde, and Argyll and Bute.
However, Cosla said it believed DPE was only a viable proposition for areas where there was a "significant amount" of on-street charged parking.
'Real danger'
It added that given the length of time needed to introduce DPE it could leave a "vacuum" for two years where parking enforcement would fall to police officers.
"There is a very real danger that it would be a very low priority for them, resulting in an intolerable level of service, partly due to conflict with other duties and partly due to a lack of knowledge and regulations," it warned.
Police Scotland announced the proposals to save money and standardise services late last year.
It said changes to legislation in relation to most parking offences meant that there was no longer a requirement for enforcement to be carried out by the police.
It added that as a result the traffic warden service had already been withdrawn from many parts of the country.
A Police Scotland spokesman said: "Police Scotland is in the process of reviewing the provision of its traffic warden resource across the country and has made proposals on how the parking enforcement that requires to be undertaken by the police will be continued.
"The force continues to work alongside local authorities to ensure the requirements of individual communities are being managed accordingly, with a focus on keeping people safe.
"We welcome the opportunity to discuss any particular communities needs and will be flexible to any proposals made to us by local authorities."