Scottish Borders Council seeks school week change views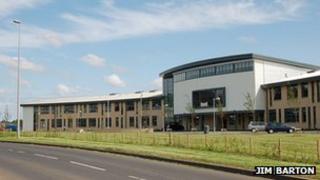 Scottish Borders Council is seeking the views of the public on plans to move to a four-and-a-half-day school week.
The proposal, to be introduced in August, aims to reduce staff costs and bring timetables into alignment.
The "asymmetric week" is said to increase opportunities for e-learning and shared teaching.
A series of consultation meetings is being planned with a full report due back to the council on its findings in March this year.
The proposals were announced in December and would see pupils spend four-and-a-half days in school each week instead of the current five.
The council stressed, however, that there would be no reduction in the total hours of attendance and teaching comprising the school week.
A number of other Scottish local authorities already operate the system.
Education director Glenn Rodger said the move was one of a number of options being explored to meet "budget challenges" in years to come.
"As well as finding a way to deliver services to schools with £11m per year less than is currently available, we must ensure Curriculum for Excellence is fully implemented and that attainment and achievement levels for all pupils continue to rise," he said.
"As teachers salaries make up the majority of the schools' budgets, a managed reduction in teacher numbers is the most viable route to achieving these savings targets.
"A move to an asymmetric week will assist schools to plan and deliver teaching and learning in the most efficient way and potentially in future with fewer teachers."
The consultation period will run until 28 February and an online survey is available.
Councillor Sandy Aitchison, executive member for education, added: "We are also keen to hear from the pupils themselves to help us understand what impact they feel the changes will have on their lives and learning.
"Each child and young person is being invited to take part in the consultation and we are making a range of options available to help them do that, including completing a short questionnaire, emailing their views to Scottish Borders Youth Voice, or discussing the issues in their pupil council.
"We will also be supporting groups of pupils to visit and speak with their peers at schools in our neighbouring authorities who already learn in the asymmetric week model."