Swimmer spotted in swollen River Nith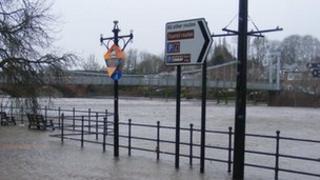 Police have urged the public not to put their lives at risk after a man was spotted swimming down a river during a spell of severe flooding.
He was seen in the River Nith, between Dumfries and Kingholm Quay, while it was in full spate at about 14:15.
The man was later traced by police and found to be safe and well.
A police spokesman said that while people might be confident of their own swimming ability, they should be aware of "hidden dangers" in the water.
He asked them not to engage in activities "likely to endanger their lives and the lives of the emergency services who may be called upon to rescue them".
Dumfries has been badly affected by flooding in the past week, with the River Nith overflowing onto the Whitesands on a number of occasions.