Scotland weather: Jedburgh flash flood questions raised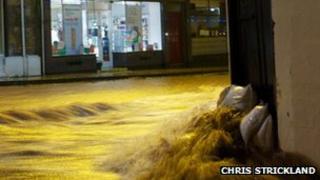 Residents and traders in Jedburgh have said measures to tackle flash flooding are "not enough" after the town was hit for the second time in 18 months.
The town's square and High Street were submerged in floodwater when the Skip Running Burn overflowed on Saturday.
Jackie Hill, who witnessed the flooding first hand, said action had been taken but it had proved insufficient.
Scottish Borders Council said the latest incident had not been as severe and prevention work was ongoing.
The authority issued flooding advice after heavy rainfall over Friday night into Saturday afternoon.
The burn overflowed on Saturday evening and about 40 firefighters were called to the scene from divisions across the Lothians and Borders.
Flooding caused damage in the town in a previous incident in August 2012.
Ms Hill said locals were shocked to have seen a repeat so soon after the area was last affected.
"It has only been a matter of months since the last time," she said.
"The council did assure us that they were putting measures in place but obviously those measures are not good enough at the moment.
"I think people can't believe that it has happened again so quickly."
Market Place shopkeeper Ghulam Murtaza had to rush from Hawick to help his shop manager clear stock.
"They said last year they were going to do something but they haven't done anything yet," he said.
"I don't know what they are doing."
MSP John Lamont MSP said the incident raised "serious questions" about why the town had been affected for the second time in 18 months.
"Despite the council commissioning a detailed investigation after last year's serious flood, there are real concerns in Jedburgh that more action has not been taken to prevent this type of event happening again," he said.
"The time for discussing what to do is over; the town now needs to see real action to remove the risk of this happening again.
"If we do not learn from serious incidents such as these then the chance of them happening again only increases."
Particularly vulnerable
SBC said that while there had been general flood warnings in place from the Scottish Environment Protection Agency there had not been one specific to Jedburgh.
However, it stressed the latest incident had not been as severe as the one last summer.
It said assessments had shown the Skip Running Burn was particularly vulnerable to this type of event.
It said it had "plans in place" to invest in improvements at a culvert mouth and it would continue take those forward.
David Faichney from SEPA's Flood Unit, said it had contacted SBC and a flood alert was issued for the Borders on Saturday afternoon.
"A flood warning was issued for the Jedburgh and Camptown stretch of the Jed Water later on Saturday evening as a precautionary measure; however no reports of flooding from the Jed Water were received," he added.
He said they were later informed of the flooding which they were informed had been caused by a blocked culvert.