Ex-Scotland rugby player Norman Pender guilty of sex abuse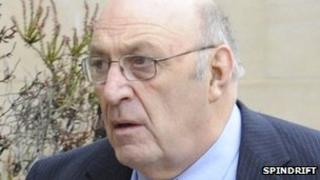 A former Scottish rugby international from the Borders has been found guilty of sexually abusing two young girls in the 1980s and 1990s.
Norman Pender, 65, of Hawick, carried out the offences at various addresses in the town over an 11-year period.
A jury at the High Court in Edinburgh also found him guilty of three charges of lewd and libidinous behaviour.
A verdict of not proven was returned on an allegation that he repeatedly raped one of the women.
The court heard how Pender, who was capped for his country in the 1970s, preyed on the women between April 1986 and October 1997.
One of his victims - who cannot be identified for legal reasons - told the court that the abuse started when she was eight years old and continued until she was 19.
He started abusing his second victim in January 1996 when she was aged just nine - it continued until she was 11.
The court heard Pender - a former councillor with Scottish Borders Council - was a first offender. Defence solicitor, advocate Iain Paterson, asked judge Lord Stewart to continue his client's bail.
He said he wanted to spend time with his sick wife and his mother, who is in her 90s.
However, Lord Stewart refused and remanded Pender in custody saying it would not be in the interests of justice for him to remain at liberty.
He deferred sentence to next month in order for the court to obtain character reports and warned that jail time would be a "probable" outcome.
"I am going to revoke bail," the judge said. "You have been convicted of some very serious offences."
Pender had denied all the charges against him.
He was placed on the sex offenders register and will be sentenced at the High Court in Paisley next month.