Scottish Borders Council strike action avoided over job terms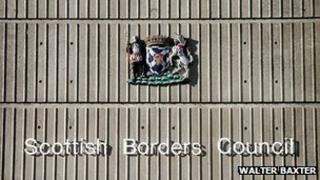 Scottish Borders Council has seen the threat of industrial action lifted after unions agreed to revised plans to change staff terms and conditions.
The local authority is attempting to bridge a £29m funding gap over the next five years.
Its first proposals to extend contract changes on new starts to all of its workers were rejected.
However, those plans were revisited and the council said unions had now voted to accept a deal.
It is estimated the revised pay terms and conditions will save the authority about £2.8m.
Key elements of the changes are:
The top incremental pay point for grades eight to 12 and chief officers will be removed
Incremental progression will be awarded, subject to satisfactory performance, every two years instead of annually
Standard night working enhancement will be reduced from 33.33% to 15% and will be payable for hours worked between 22:00 and 06:00 - it is currently paid from 21:00
Weekend enhancements will be removed - at present they receive an enhancement of 33.33%
'Positive approach'
In a joint statement, council chief executive Tracey Logan and leader David Parker said: "The funding gap required us to take steps to protect both jobs and critical council services.
"It was extremely difficult to ask staff to consider changes to their terms and conditions and we very much appreciate the commitment and support they have shown.
"We would like to thank the trades unions for their contribution to the process and positive approach to negotiations."
They said they believed the new deal struck "an appropriate balance between staff pay and conditions and the demonstration of value for money in the services the council provides".
The changes to employee contracts, coupled with an earlier agreement estimated to save £5m, will achieve a total saving of £7.8m.
Revised terms and conditions will come into effect from 1 April 2014.