Dumfries secondary school overhaul unanimously supported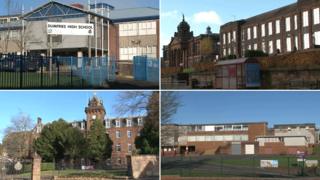 Councillors have given their unanimous support to plans to reshape secondary school provision in Dumfries.
It will see new schools built at Maxwelltown High and Dumfries High and the refurbishment of St Joseph's College and Dumfries Academy.
It also involves the creation of a "learning hub" offering specialist higher academic and vocational studies.
A full council meeting agreed to take the plans forward under the name the Dumfries Learning Town Programme.
Dumfries and Galloway Council had previously been considering the creation of a "super school" for all S4 to S6 pupils to be sited on the Crichton Campus.
However, when Labour councillors replaced their Conservative counterparts in a coalition with the SNP at the helm of the local authority, they dropped those plans.
'Unpopular idea'
Instead, they announced the "emerging option" of two new schools, two upgrades and a "learning hub".
Those plans were backed by education committee councillors and have now secured full council support.
Dumfries and Galloway's Labour MP Russell Brown said he welcomed the decision.
"The 'super school' was an unpopular idea among parents and teachers alike and with any new plan like this, you need the support of the local community to make it work," he said.
"I have heard for myself from local parents and teachers how popular the emerging option is.
"That is what gives me the confidence that the new Labour-SNP administration is pursuing the right course."