Borders General Hospital improvement action ordered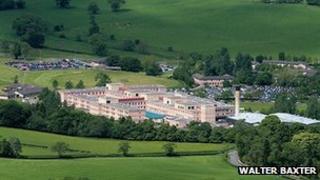 A list of six requirements for improvement has been issued to Borders General Hospital following an inspection.
The Healthcare Environment Inspectorate (HEI) visited the site in late October.
It found overall standards of cleanliness were good and praised "positive communication between staff and senior management".
However, it wants to see improvements in equipment cleaning, linen management and the storage of breast milk.
The HEI has also ordered NHS Borders to provide a "suitable and sufficient risk assessment" for the "limited bathing facilities" on Ward 12.
It said that would ensure there were effective control measures in place to minimise the risk of infection to patients, visitors and staff.
Inspectors also recommended that a timescale should be provided for additional bathing facilities on the ward.
NHS Borders chief executive Calum Campbell welcomed the report.
'Isolation policy'
He said: "As a health board we are committed to providing high standards of care, cleanliness and hygiene to minimise the risk of healthcare associated infection.
"The report commends many of our day to day practices including hand hygiene audits, compliance with the national dress code policy and the board's isolation policy.
"It is encouraging that the inspectors also noted evidence of action plans that have been developed from the recommendations made in previous reports, which are being implemented and are making improvements at ward level across the hospital."
He said the report had identified a "small number of points" to be tackled, some of which had been addressed already.
"These include monitoring compliance with the sharps management policy and provision of a risk assessment for the bathing facilities on Ward 12," he said.
"We will continue to learn from the inspectorate to make sustained improvements to our service and the quality of patient care that we deliver."