Dumfries and Galloway festive police not 'party poopers'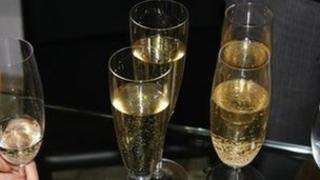 Police in Dumfries and Galloway have urged the public to enjoy themselves over Christmas without spoiling the festive season for others.
They said by far the majority of incidents they had to deal with were as a direct result of alcohol.
A spokesman said officers would be "out in force" in towns and villages to help keep people safe.
He said they would deal with antisocial behaviour "firmly" and they would be working closely with licensed premises.
Police Scotland Operational Commander for Dumfries and Galloway Mike Leslie said: "Police Scotland are not out to be party poopers.
"But, we do want people to understand that they need to consider the consequences of their actions when they take too much drink.
"Having a good time should not impact on those who just want to have a peaceful festive season."
'Black Eye Friday'
There are particular concerns about problems in the run-up to Christmas Day.
"This year, let the last Friday before Christmas, traditionally when people break up for the holidays, be remembered as Festive Friday, and not Black Eye Friday, as people go out to celebrate at office and works parties," said Mr Leslie.
Dr David Pedley, consultant at Dumfries and Galloway Royal Infirmary, said there was always a rise in admissions over the festive season.
"Sadly, many of the people we see through the department at this time of year could easily have been avoided, as in many cases, drinking too much alcohol was the main root of the problem," he said.