Future of Dumfries secondary school provision examined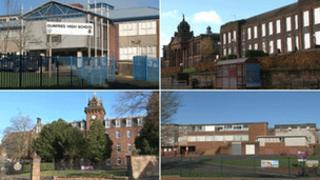 Far-reaching plans to reshape secondary school provision in Dumfries are being considered by the local authority's education committee.
Members are being asked to select from four potential options.
The council's Labour-SNP administration has already stated its support for what is described as an "emerging option".
It would see new schools at Dumfries High and Maxwelltown High and refurbishment of St Joseph's College and Dumfries Academy.
The creation of a new "learning hub" for specialist academic and vocational studies is also part of that plan.
The new vision, which also has backing of the local branch of the EIS teaching union, was developed in the face of widespread opposition to options 2A and 2B - both of which involved the creation of a so-called "super school" at the Crichton campus for all senior students in S4 and above.
The other remaining option involves enhancing education provision in the town based on the existing four secondary school structure.
Dumfries and Galloway Council's education committee is being asked to agree its preferred way forward and make a recommendation to the full council.