Scottish Borders Council agrees school week changes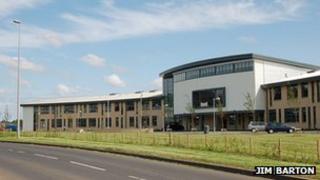 Scottish Borders Council has agreed to move to a four-and-a-half-day school week in a bid to reduce staff costs and bring timetables into alignment.
The "asymmetric week" is said to increase opportunities for e-learning and shared teaching.
The authority dropped previous plans for a similar move in its secondary schools due to transport cost concerns.
However, it believes making the same changes to opening times at primary schools will tackle that issue.
A switch to a standardised 33-period timetable was abandoned last year after a trial at Berwickshire High School.
The council will now aim to introduce changes by August next year, with a full report to identify any "concerns and issues" and how to address them due in March.
It has been estimated the move could allow staff numbers to be reduced by more than three teachers at larger schools and a single teacher at smaller sites.
A report to councillors said there was consensus among head teachers that the move would allow more joint planning around key aspects of the Curriculum for Excellence.