Soup firm Baxters to close Selkirk and Edinburgh outlets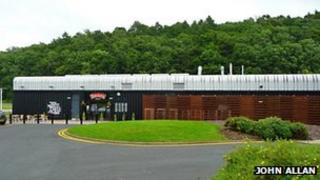 Soup firm Baxters is to close two Scottish outlets in February with the loss of about 50 jobs.
The sites at Selkirk in the Borders and Edinburgh's Ocean Terminal are to shut.
A spokesman for Baxters said the owner of its main warehouse distribution centre at Blackford was selling up and they had been unable to find a replacement.
He described the decision by the Moray-based firm to close the two outlets as "very regrettable".
"The site at Blackford played a vital role in the viability of both Selkirk and Ocean Terminal," he said.
"Alternative options have been looked at and this decision was a last resort.
"We will offer full support to the staff who have been affected."
The firm opened its only Borders outlet almost seven years ago when it moved into the former Selkirk Glass building.
Selkirkshire councillor Gordon Edgar said the decision to close was "not only a blow for Selkirk but also for the Scottish Borders".
'Alternative employment'
"It is really disappointing news - disappointing for all of the staff who will lose their jobs and disappointing for other businesses who benefit from the tourists that Baxters bring," he said.
"Scottish Borders Council will do what it can to support the people who are losing their jobs.
"Hopefully another tenant can be found for the building."
Council leader David Parker said Baxters had delivered a very good service in Selkirk and was well thought of.
"The council and its partners will work with the company to try and support their staff finding alternative employment," he said.
"We also have a range of business services that can give advice - if this announcement affects more than Selkirk then we will have to see what can be done to support the company at a national level."